PRINCE2® 2017 Translation schedule in French, Dutch, Italian and Spanish
A big news was released few days ago by Axelos Global Best Practice:
"Following the successful update of PRINCE2 in English, AXELOS is delighted to announce the schedule for translation of the PRINCE2 2017 updated manual and the supporting Foundation and Practitioner examinations. The first languages to become available will be German, Dutch, Polish, Danish, French and Norwegian. AXELOS is also delighted to confirm the next four languages to be translated soon after these initial six. The additional four languages are: Italian, Chinese, Czech, Spanish."
For our International Clients, this news is especially relevant as it specifically indicates the launch date of the translated PRINCE2 manual and official Foundation and Practitioner exams in French and Dutch. Other good news is that Italian and European Spanish will be soon released too.
"The translation, taken from the second impression of the new manual will be accompanied with the supporting examination questions that have become available after a recently completed standard review of the latest questions. This is to ensure that the translation into the languages is done from the highest possible quality of the source English material."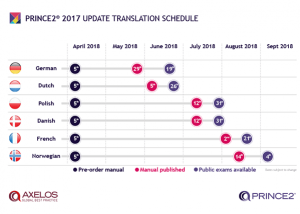 PRINCE2 updated version – FRENCH TRANSLATION
5th of April – FRENCH manual pre-order date
2nd of August – FRENCH manual publication date
21st of August – FRENCH Foundation and Practitioner exams available
PRINCE2 updated version – DUTCH TRANSLATION
5th of April – DUTCH manual pre-order date
5th of June – DUTCH manual publication date
26th of June – DUTCH Foundation and Practitioner exams available
Regarding Italian and Spanish,  further information on their rollout schedule will follow later in the year.
For more information please refer to the FAQ documents below.
Want to have more info?
Get in touch anytime! We're here to help!