SAFe® (Scaled Agile Framework®) is an agile management framework. Its author, Dean Leffingwell, defines it as a knowledge base made up of skills, practices and integrated principles that have been proven to achieve a state of Business Agility using Lean, Agile and DevOps.
SAFe is built around the seven Core Competencies of Business Agility that are critical to achieving and sustaining a competitive advantage in an increasingly digital age.
Scaled Agile offers courses and certifications that equip the SAFe participants and professionals in every SAFe role and through every stage of their learning journey. QRP offers the Leading SAFe training, which prepares for the SAFe Agilist Certification.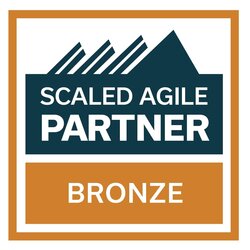 Agile management framework

Used by more than 20,000 organisations around the globe

Suitable for complex projects

Virtual and Onsite solutions
What is SAFe?
SAFe (Scaled Agile Framework) is an enterprise framework that encompasses a set of principles, processes and best practices. Its goal is to help large organisations adopt agile methods, such as Lean and Scrum as well as to rapidly develop and deliver products and high quality services.
SAFe is an agility framework at scale, which means that instead of having an agile team it will imply an agile transformation for the complete organisation.
SAFe is particularly well suited to complex projects that involve multiple large teams at the project, program and portfolio levels.
Derived from Lean, systems thinking, Agile development, product development flow, and DevOps, SAFe is the framework chosen by global market leaders to leverage Business Agility.
SAFe training
QRP International is a Scaled Agile Bronze Transformation Partner and is accredited by Scaled Agile to deliver SAFe training. Check our SAFe training formats and pick one that suits your needs or works best for your colleagues
SAFe is a proven Good Practice in agile management. It raises organisational wide awareness agility and guarantees the technical agility of teams
SAFe helps companies improve employee engagement, time-to-market, team productivity, and the quality of products and solutions
SAFe makes it easier to drive and support organizational change and improve operational efficiency
SAFe introduces a continuous pipeline of deliverables, essential to create value and meet customer needs
SAFe leverages the benefits of Agile, Scrum, Lean, DevOps and Kanban
SAFe enables projects to be managed with a higher degree of agility, thus providing stakeholders with faster feedback
SAFe is recognized worldwide as a trusted system for business agility.
Ask for more information
If you have any questions or would like to receive further information please do not hesitate to contact us using the form.
20+ years of experience

30,000+ professionals trained

Only accredited training