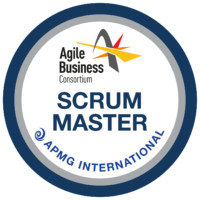 APMG – Agile Business Consortium Scrum
Scrum is a framework for developing, delivering and sustaining complex products through effective team collaboration.
What is Scrum
Scrum is a framework within which people can address complex adaptive problems, while productively and creatively delivering products of the highest possible value. It has been created by Ken Schwaber and Jeff Sutherland and it has been originally launched in 1995. Scrum is not a process, technique or definitive method. Rather, it is a framework within which various processes and techniques can be employed.
Framework consists of Scrum Teams and associated roles, events, Artefacts and rules. Scrum has been used to develop software, hardware, embedded software, networks of interacting function, autonomous vehicles, schools, government, marketing, managing the operation of organizations and almost everything we use in our daily lives, as individuals and societies. As technology, market, and environmental complexities and their interactions have rapidly increased, Scrum's utility in dealing with complexity is proven daily. Scrum proved especially effective in iterative and incremental knowledge transfer.
Agile Business Consortium Scrum Training
Scrum  qualification is offered by APMG and Agile Business Consortium: this new hands-on qualification is based on The Scrum Guide – the definitive guide to Scrum – created and maintained by Scrum's creators.
It's in this continuously evolving context, that QRP International offers the Scrum qualification, designed by APMG and Agile Business Consortium, leaders in promoting and enabling business agility. Increased focused on Scrum's application across the wider business, beyond IT & software development.
ABC Scrum qualification level
The APMG-Agile Business Consortium certification:
ABC Scrum Master
This course addresses the principles and theory underpinning the Scrum framework, and the role of the Scrum Master in it.
MORE INFORMATION
Ask for more information
If you have any questions or would like to receive further information please do not hesitate to contact us using the form below.