Continuing education is at the core of your PMI certification. As ATP, we provide pre-approved PDUs for all our courses.
Did you follow a course with us?
All you need to do is to claim your PDUs through the PMI portal. They will be automatically expedited for processing.
How to proceed
Login to the PMI portal (myPMI)
Go to your Dashboard
Click on the button "REPORT PDUS"
In the Education section (on the left), go to PDU Claim Code
Click on "I have a Claim code"
Insert the Claim Code you can find on this page.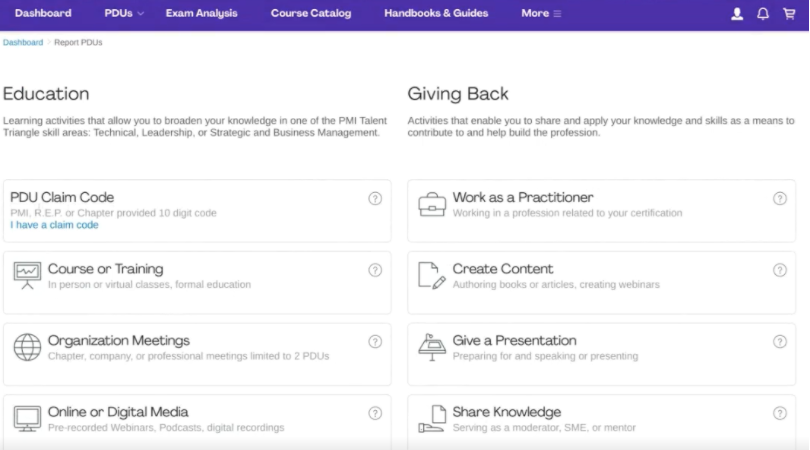 Your Claim Code
Choose the course you followed from the list below and find your claim code to insert on the PMI portal:
ABC Scrum Master (14 PDUs): 373892Y5Y4
AgilePM Foundation (21 PDUs): 37389I0BRN
AgilePM Practitioner (14 PDUs): 3738GZ3EYQ
AgilePM Combi (35 PDUs): 37380VJD6M
Change Management Foundation (21 PDUs): 3738Q5277R
Change Management Practitioner (14 PDUs): 3738VD2BKB
Change Management Combi (35 PDUs): 3738GDH68L
DOI DevOps Foundation (21 PDUs): 3738C37IQ9
DOI DevOps Leader (21 PDUs): 3738BZAD7Q
HERMES 5 Foundation (14 PDUs): 3738HCDAEN
HERMES 5 Advanced (21 PDUs): 3738ZP7481
ITIL 4 Foundation (21 PDUs): 3738NEZA9R
ITIL CDS (21 PDUs): 3738VT20B7
ITIL DITS (21 PDUs): 3738ZX66E5
ITIL DPI (21 PDUs): 3738YQN4X5
ITIL DSV (21 PDUs): 3738RNFY2B
ITIL HVIT (21 PDUs): 3738S2WUIY
MoP Foundation (21 PDUs): 3738WSO8GP
MoP Practitioner (14 PDUs): 3738KH4A1I
MoP Combi (35 PDUs): 3738GKVWZ4
MSP Foundation (21 PDUs): 3738O924TU
MSP Practitioner (14 PDUs): 3738H74FUF
MSP Combi (35 PDUs): 3738JMK5YC
OpenPM2 Fundamentals (14 PDUs): 373800NUHV
P3O Foundation (21 PDUs): 3738KVKCBB
P3O Practitioner (14 PDUs): 3738FMC9IA
P3O Combi (35 PDUs): 3738HXIED4
PeopleCert DevOps Fundamentals (21 PDUs): 3738IUEKIL
PeopleCert DevOps Leadership (21 PDUs): 3738FYXPUE
PRINCE2 Foundation (21 PDUs): 3738UQOH6Y
PRINCE2 Practitioner (14 PDUs): 3738DY2104
PRINCE2 Combi (35 PDUs): 3738XU6ODQ
PRINCE2 Agile Practitioner (21 PDUs): 3738TWXR8P